eri network members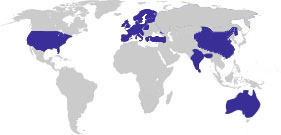 The consultant will:
Make no charges to any candidate.
Act with impartiality and objectivity throughout the selection process.
Treat all information provided by the candidate with proper confidentiality and use it only for the purposes the candidate is intended.
Give the candidate all relevant information that is proper and timely, and without breaching client confidentiality, to enable judgements to be made about the client and the position.
To inform all candidates of the eventual result of the application.
The consultant will:
Agree the full objectives and details with the client, and no assignment will be undertaken for which the consultant does not have the knowledge, skills and time to complete properly.
Give full commitment to the assignment and the achievement of the agreed objectives.
Treat all information provided by the client with proper confidentiality and used only for the purposes the client intended.
Accept no undisclosed commissions or other payments from third parties arising from any assignment, and will declare any financial interest that might be involved in performing that assignment.
Not accept work from any other client which is direct competition.
Not use his position with any client to initiate or solicit recruitment of any employee away from the client.